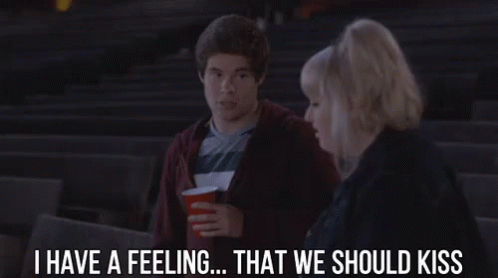 So guys, listen up. There's some ways that work when asking out a woman and some ways that just totally and utterly …. make us screen shot your attempt and send it to our friends. So I've complied a list of ways in which you should most definitely NOT ask someone out.
1. We can go if you want to – why doesn't this work, well probably because you're making it feel more like a chore and less like you want us to go somewhere with you.
2. We should go for dinner some time – VAGUE. so very vague, you obviously must think we sit around waiting for men to make plans with us. No, we're busy people so if you want to go on a date with us, pick a date and stick to it!
3. You wanna do that 'insert activity here' you spoke about – how about you be more proactive? If we've mentioned we want to do something, surprise us and just book it/plan it and then tell us when to be there. Be ballsy! Especially if you can't come up with your own ideas.
4. Let's catch up – erm, on what? If we haven't seen you for years, one coffee date isn't going to fill you in on all the events of my life. So again, suggest an actual plan.
5. We could grab a drink if you want – LOW EFFORT! If you actually want to impress someone, put in some effort. If you think she's worth it then do it. We won't remember all these first date drinks we go on, but we will remember the ones where actual effort was made.
6. I'd love to take you out, followed by 'well where do you want to go' – nope. You've almost done it right with this one! You've said you'd love to see us, but then throwing the control back at us. If you'd love to take us out, you should know where you'd 'love' to take us.
7. We could do something this Saturday, oh wait no I'm busy – if we didn't ask you out on Saturday, you don't need to ask us and then subsequently announce you actually have other plans. No one asked. Tell us a day when you're free or actually free one up for us.
8. I'll let you know when I've chosen something – if you're approaching us to ask us on a date you really should have already had a plan. This line makes us think we should carry on with plans with our friends, it doesn't sound certain and we won't sit around waiting for you to get your act together. Either get something set up properly or we'll assume you're going to bail.
9. We should go out – ok, firstly … said who? You're not really asking me if I actually want to now, you're just telling me, kind of like a caveman pointing at what he wants and thinking it will just happen. It probably won't with this approach.
10. You wanna go on date then? – why do I feel like your mum who's making you take her food shopping all of a sudden? I want you to want to go on a date with me …. I don't want to feel like a chore. But thanks anyway.